I bet all of you are sitting around right now scratching your heads and thinking "I wonder what that crazy E. Spat has been up to all day?"
And, I won't deny it, my life is pretty interesting and exciting.
First, I nursed my hangover with the hugest, cheesiest bagel ever.
Then, I had a 44 oz Super Big Gulp of Diet Coke.
Next, I cleaned house and packed. That was pretty fantastically interesting.
Then, a walk. Which was like some kind of forced death march. Why? Why all the rum?
Finally, the best part of my day. This: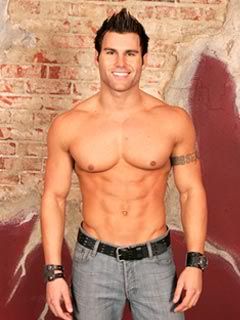 I watched THREE hours of this VH1 show,
Stripsearch
. An Australian guy and a hot female VH1 host driving around in a big bus, auditioning male dancers, and then moving all the selected guys into a big house in LA to train to be part of a Las Vegas male revue. A classy one. Seriously. Quit laughing. The best part is that the guys are just as bad as a house full of chicks. There are catfights and petty disagreements and a lot of time spent grooming and working product into their collective hair. It was the best part of my whole day. I don't know how I'll survive all summer without seeing how it turns out...I *have* to find a way to get TV in D.C.
The whole rest of my night was spent running around doing errands and getting my unofficial sublettor all settled in. Hopefully the apartment people will be cool and not put up a fuss about this. I know that they know he's here and I'm hoping that since I've been making it seem like he'll just be checking in on things and taking care of my place they'll look the other way and not be dicks.
I have an appointment tomorrow for a haircut, color, and highlights. YAY! Then, it's off to Tequila and Karaoke-ville. WOO!